OSJD Interagency conference in Gdansk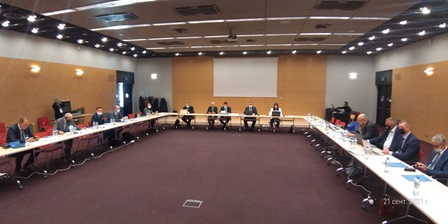 In keeping with the Work Plan of the OSJD Commission on Transport Policy and Development Strategy for 2021 that pursues, among others, the topic "Designing measures to facilitate border crossing in international railway transport operations in Eurasia," the OSJD Committee organized and conducted the 9th Interagency Conference "Practices in border crossing by rail transport" in Gdansk, Poland, on 21-22 September 2021. The Conference was held as a combined face-to-face/online videoconference event.
The Conference was attended by representatives of ministries of transport, customs and border services, officials from railway administrations of OSJD member countries, observers, and affiliated enterprises, as well as representatives of international organizations concerned with rail transport: UN ESCAP, CIT, and the OSJD Committee.
Participants in the Conference also visited the 14th TRAKO International Railway Fair that was running concurrently in Gdansk on 21-24 September. The OSJD exhibition stand displayed information about the Organization's current activities and its 65 years of growth and success.