KORAIL launches new KTX-Eum high speed train (according to KORAIL)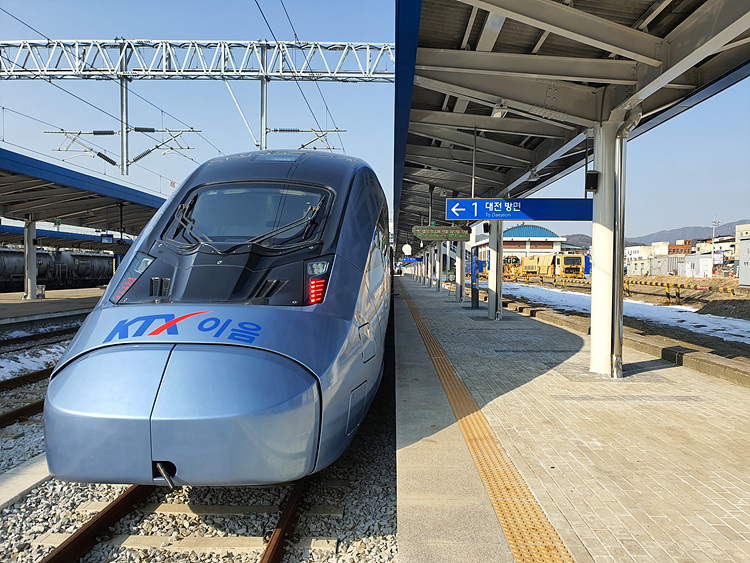 The new high speed train , KTX - Eum, of KORAIL, the Railroad Corporation of the Republic of Korea made its commercial debut on 5 January 2021. The KTX-Eum is the first multiple power unit train developed solely by South Korean technologies. The train is fitted with the GPS system for its safe operation and adopts the fourth-generation mobile network for railways (LTE-R). Noticeably, it is the world's very first application of LTE-R technology on high speed trains, which enables realtime information sharing amongst trains, railway traffic control center, railway stations and other related staff.
In terms of technology, the KTX-Eum's Train Control and Monitoring System provides traffic data and failure detection signals on monitors of the train cab. And its signaling systems, such as Automatic Train Protection and Automatic Train Stop, safely slow down the speed of the train when the train exceeds the speed limit. In addition, alternative systems are installed on the main equipment/circuits to be able to function when one part of the system fails, thereby allowing normal operation of the train.
The Government of the Republic of Korea plans to gradually replace all diesel trains with eco-friendly electric multiple unit (EMU) trains, such as KTX-Eum, to accomplish the goal of Net-zero 2050. This move will cut greenhouse gas emissions by 70,000 tonnes annually.
This new high speed train has shortened travel time between Seoul and North Gyeongsang Province (219.4 km) to only two hours, far faster than 3 hours and 54 minutes of the previous time by car. In turn, KTX-Eum is expected to accelerate balanced regional development by reduced commuting time from provincial towns to Seoul Metropolitan area.
According to Mr. Son Beong Sok, President and General Director of KORAIL, "Since the launch of KTX which was purchased from France, we have developed KTX-Sancheon and then the Korea's first high speed multiple power unit, KTX-Eum, by using our own technology. Indeed, it is a meaningful step forward to emerge as a Railway Technology Powerhouse."