A new model of railway wheel has been developed in Kazakhstan (according to information of "KTZ NC" JSC and "Prommashkomplekt" LLP)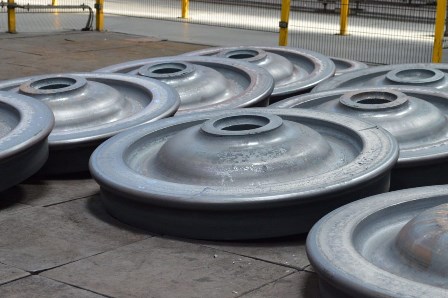 The acceptance committee, which assessed the test results of the solid-rolled wheels with curved discs made of steel measuring 2 for innovative freight wagons has completed its work at the Prommashkomplekt LLP (PMK, Ekibastuz, Republic of Kazakhstan). The PMK offers to wagon builders and operators in the railway market of the Eurasian Economic Union the first Kazakhstani certified wheel with an axle load of up to 27 tons.
The Prommashkomplekt received a certificate of compliance with the requirements of TR ST 001/2011 "Safety of railway rolling stock", which allows the operation of new wheels throughout the territory of the Eurasian Economic Union.
Representatives of various companies and organisations of the railway industry took part in the work of the commission: "Kazakhstan Temir Zholy National Company" JSC; "Kaztemirtrans" JSC, "Testing Center of the Kazakhstan Certification Center for Railway Transport" LLP, "Inspection Center 'Acceptance of Wagons and Their Components'" LLC, "Association of Testing Centers of Railway Vehicles" LLP.
A full cycle and an entire production technology have been developed in the Prommashkomplekt LLP – from designing a new wheel structure and determining the chemical composition of the metal to manufacturing and testing the finished product.
The advantages of the new wheel design are high performance and increased axle load. The applied technical solutions made it possible to increase the guaranteed period between overhauls and, accordingly, the service life of the wheels. An increased axial load is achieved due to the application of the principles of low-stress design (design with a low stress level) in the disk, which ensure a low level of stresses in the metal and a high fatigue endurance limit of the product. The new wheel design has been developed using the latest mathematical modeling techniques.
The wagon building and wagon repair companies impose high and stringent requirements for the safety and reliability of wheels for railway rolling stock. The tests have confirmed that the minimum disc endurance limit of the newly designed wheel is more than 510 kN, which is 22% higher than that of the standard flat cone wheels.
The production technology of the Prommashkomplekt LLP is unique and is distinguished by a high degree of automation and minimization of the impact of the human factor on the quality of products. The business management system applied at the PMK that meets the requirements of the international standard ISO/TS 22163:2017, the qualifications of personnel and a high level of automation of equipment make it possible to quickly master new progressive technical solutions, including those related to the design of wheels, wheel centers, blanks of gear wheels with high mechanical and strength characteristics, and to ensure a high level of reliability and safety of products in operation.