Mongolia imports first freight wagons with 25-tf axle load (according to UWC RPC PJSC)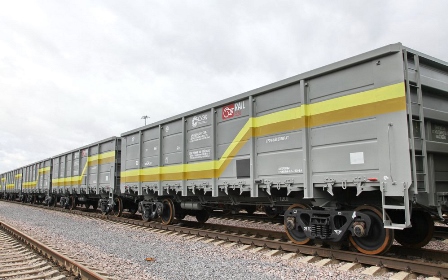 For the first time in the history of the wagon building in Russia, rolling stock with an axle load of 25 tf will be supplied for operation on the Mongolian railway network. In total, it is planned to supply 810 open-top wagons with an increased carrying capacity to Mongolia.
Six companies from Russia and China took part in the bidding announced to supply freight wagons to Mongolia. In terms of the aggregate characteristics, the 12-9853 series open-top wagon manufactured by the Tikhvin Wagon Building Plant (part of the UWC RPC) was recognized as the best in comparison to the analogs of all bidders.
The first batch of 100 wagons will be sent to Mongolia in 2021. The freight wagons will be used on a newly built railway line to transport coal from one of the world's largest deposits of Tavan Tolgoi (Mongolia) to China.
The supply of Russian-made rolling stock to Mongolia testifies to its high quality, due to which it is in demand not only in the domestic market, but also abroad.
According to the National Statistical Committee of Mongolia, in the first eleven months of 2020, the volume of railway freight traffic increased to 27.5 million tons, or 7.3% as com- pared to the same period of the previous year. The dynamics was influenced by an increase in the export traffic volume, in particular to China, and transit. Industry experts believe that the investments that are currently being directed to the development of coal and iron ore deposits in Mongolia will create additional demand for the development of railway projects in the medium term, including the purchase of freight rolling stock.
The universal open-top wagon of 12-9853 series was developed by the All-Union Research Center for Transport Technologies (part of the UWC RPC). The open-top wagon is characterized by a carrying capacity of 75 tons and a body space of 92 m³, which allows transporting goods of a wide spectrum of density and increasing the loading capacity per wagon by up to 10% as compared to its analogues.
A significant competitive advantage of the open-top wagon are the 18-9855 series bogies with an axle load of 25 tf. Thanks to the innovative running gear, the reliability of the wagon's operation ability has grown, and its distance run between overhauls have significantly increased, while the costs for maintaining the open-top wagon in proper condition throughout the entire life cycle have been reduced. The service life of the 12-9853 series open-top wagon is 32 years.