Agreement on mutual recognition of visas signed between Republic of Belarus and Russian Federation (press-release)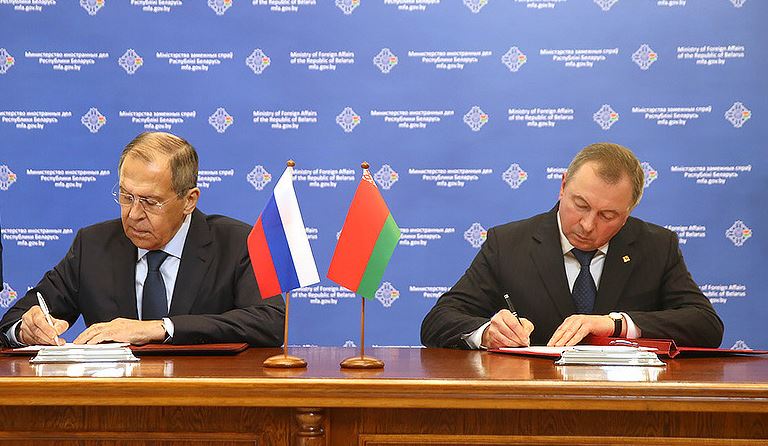 On 19 June 2020, an agreement was signed in Minsk between the Republic of Belarus and the Russian Federation on the mutual recognition of visas issued to foreign citizens and stateless persons on the territory of these states. The document was signed by the Foreign Ministers of the two countries Vladimir Makei and Sergey Lavrov.
On the same day, at a meeting with President of the Republic of Belarus Alexander Lukashenko, the head of the Russian Foreign Ministry explained that his visit to Belarus had been planned a month ago, but the epidemiological situation had made its own adjustments. Speaking about the agreement, Sergey Lavrov noted that it will have a very positive meaning for third-country nationals who visit Russia and Belarus, business representatives and diplomats who are accredited both in Moscow and Minsk. At a briefing after the signing of the agreement on the mutual recognition of visas, Vladimir Makei noted that the document is based on the full mutual recognition of national visas and other permits for stay. "Now foreign citizens have an opportunity to visit both countries by having the national visa of only one of them. Thus, the agreement removes the problem of crossing the Byelorussian-Russian land border by the citizens of third countries." Sergey Lavrov has noted that the agreement is aimed at forming a single integration space between Belarus and Russia. Meanwhile it will be very well perceived and in fact will continue the joint construction of the Union State.
After the agreement comes into force, citizens of other states will not need to obtain two visas to travel to Belarus and Russia. Having a visa from one of these countries, they will be able to enter, leave and stay on the territory of the other side during the validity of the visa and will be able to proceed by air, railway and six highways (they are defined in the annex to the agreement). Visas will be mutually recognized for stays of up to 90 days.
The agreement will enter into force upon the ratification process by countries is completed.